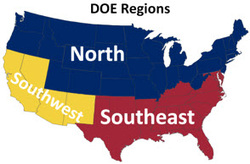 Is SEER a factor for you? As of January 1, 2015, SEER (Seasonal Energy Efficiency Ratio) is an important factor for just about any real estate professional who sells homes with air conditioning systems. Understanding SEER requirements and how they affect your clients could save them thousands of dollars—and help keep them satisfied long after you've closed the deal!

What is SEER? Simply put, SEER measures the efficiency of air conditioning systems. A higher SEER rating means greater cooling efficiency and lower energy consumption.

Why is SEER a Factor?
If an air conditioning system fails and requires replacement, a new system must meet the minimum SEER rating as mandated by the U.S. Department of Energy (DOE). Because the minimum efficiency standards recently increased, that will likely mean upgrading an existing system to a more energy efficient system in order to meet the new requirements. While homeowners may see an energy cost savings over the operating life of the new system, the initial cost of equipment and installation could be thousands more than a typical like-for-like replacement.
Since 2010, the minimum SEER rating for air conditioning equipment has been 13 SEER. Prior to 2010, SEER ratings ranged from 9 SEER to 12 SEER. As of the first of this year, however, the minimum SEER standard is 14 SEER for most air conditioning installations. To complicate matters, the DOE divided the country into three zones based on the expected run time of air conditioning equipment. The standards vary slightly depending on what type of equipment your clients have and where they live.
New Federal Minimum Efficiency Standards for Residential Air Conditioners & Heat Pumps
(single-phase models less than 65,000 btu/h) Effective January 1, 2015 for the Southeast Region is 14 SEER.
Installation Cost Versus Expected Energy Savings:
The jump from 13 SEER to 14 SEER is not without cost. The more efficient equipment may have a 25% to 50% (and sometimes more) higher replacement cost than the older systems. There are other factors to consider as well, as the high-efficiency equipment may not be compatible with the rest of the HVAC system and may not fit where the old equipment was located. That could mean additional construction, upgrades, modifications, and labor. In total, your clients can probably expect to pay anywhere from about $3,000 to $5,000 (or more) to replace an air conditioning system and meet the minimum requirements.
According to the online energy calculator from Lennox (
http://bit.ly/19wMMDX
), upgrading from 10 SEER (common for older equipment) to 14 SEER would result in a 29% increase in energy efficiency. Based on the U.S. national average for energy, a homeowner could expect to save about $1,395 over a 15-year period on energy bills. In warmer regions, where people run their air conditioners more often (e.g., Arizona, Texas, Florida, etc.), savings over 15 years could amount to $3,000 - $4,500 or more.
As you can see, the cost to install the new equipment may pay for itself over the life of the equipment. However, the key to maximizing overall dollar savings is to mitigate, as much as possible, installation costs.
Article posted by ORHP.