Mortgage Pre-Qualification vs Pre-Approval.
Two often confused terms in the home buying process are a mortgage loan pre-qualification and a home loan pre-approval. Even some loan officers and real estate agents will use the terms incorrectly, so here's what you really need to know about each one.Pre-Qualification
A mortgage loan pre-qualification is simply an estimate of how much house you can afford and how much money a lender would be willing to loan you. The best time to get a pre-qualification is right at the beginning of your home buying process, before you even start looking at houses. This involves either sitting down with a lender or talking with one on the phone, and providing information on your income, assets, debts, and a potential
down payment
amount. The lender would then provide you with a ballpark figure in writing of how much he thinks you could afford to pay for a monthly mortgage. There is no cost involved and there is no
commitment
on either side. This estimate is just helpful in helping you figure out if buying a home is a viable option, and if so, what your price range would probably be.
Pre-approval
Getting pre-approved means that you have a tentative commitment from a specific lender for mortgage funding. In this case, you provide a home loan lender with actual documentation of your income, assets, and debts. This process typically requires an
application
fee as well, since the bank will run a
credit
check and work to verify all your employment and financial information. Once you are approved, the lender will give you a letter of commitment, stating how much money her bank is willing to loan you for a home purchase. With a pre-approval in hand you can start your shopping - real estate agents and sellers will take you much more seriously when they see you have your mortgage funding in place.
It is important to understand, however, that even a pre-approval is not a
guarantee
that you will be approved for a mortgage loan. The funding will only be given when the property appraisal,
title
search, and other verifications check out on the home you have chosen to buy. Neither is the pre-approval binding; you can still obtain a mortgage from a different lender. If you do stick with the same company that pre-approved you though, the application process will be much shorter once you find the right house.
When Is It A Sellers' Market?

Three to six months of inventory. At this level, while buyers are not in absolute control of the market, if sellers prepare the house well and price it right, they'll find multiple buyers at the door.
Generally, here are the characteristics of a sellers' market:
Booming local economy. Local businesses are hiring at a brisk pace. New companies are opening up shop.


Low existing housing inventory. More jobs are coming into a market where there's not enough inventory to house all the workers, thus creating financial pressure on local resale units.


Builders are not producing enough homes to fill the job base.


Home sales prices are escalating.


Buyer contracts begin to come in non-contingent. Buyers want to purchase a house, period. They no longer offer under list price, ask to sell their house first before settlement, or try to buy without financing already approved. There is no negotiating for the "perfect" terms. Getting the house, is the perfect term.


Seller subsidies disappear. While buyers used to ask for some sort of assistance -- lower price, points paid, closing costs -- the buyers must come to the table without any help from the seller.


High down payments become the norm.


Appraisals are no longer needed to qualify for the purchase price. With down payments of $100,000-plus, there's plenty of equity coming to the table to ease the risk factor for most lenders so that the appraised value is not as important as the actual purchasing price. If the appraisal comes in $20,000 less than asking price -- that's okay, because the buyer has enough cash to compensate for the lower value.
Tax Implications of Selling a Home

Selling a home can have a major impact on your federal and state tax returns.
Check with your tax consultant on the factors that may affect taxes resulting from the sale of your home. For example:
Whether you purchased the home or acquired it by gift or inheritance

Whether you used your home partly for business or rental

Costs associated with selling your home

Home improvements or additions, which may help to offset capital gains

Gain from the sale of a prior home on which tax was postponed prior to the enactment of the federal Taxpayer Relief Act of 1997

The federal Taxpayer Relief Act of 1997 says when you sell your home you can keep, tax free, capital gains of up to $500,000 if you are married filing jointly or $250,000 for single taxpayers, or married taxpayers who file separately. To qualify for the exclusion, you must have used the home as your principle residence for at least two of the prior five years. It is not a one time tax exclusion. You can use the exclusion as often as you meet the qualifications.
The federal Internal Revenue Service Restructuring and Reform Act of 1998 further clarified the law and says you can prorate the $500,000/$250,000 exclusion (not your specific gain) if unforeseen events, such as a job change, illness, or some other hardship forced you to sell before you meet the two-year residency requirement.
Many, but not all federal tax benefits are also available from state tax departments. Be sure to discuss your move with a tax professional familiar with state tax rules, especially if you are moving from one state to another.
When Is a Real Estate Agent a REALTOR®?

A real estate agent is a REALTOR® when he or she becomes a member of the NATIONAL ASSOCIATION OF REALTORS®,
The Voice for Real Estate®,
the world's largest professional association. The term "REALTOR®" is a registered collective membership mark that identifies a real estate professional who is a member of the NATIONAL ASSOCIATION OF REALTORS® and abides by its strict
Code of Ethics
.
Founded in 1908, NAR has grown from its original nucleus of 120 members to more than 1 million today. NAR is composed of REALTORS® who are involved in residential and commercial real estate as brokers, salespeople, property managers, appraisers, counselors, and others who are engaged in all aspects of the real estate industry.
Members belong to one or more of 1,700 local associations/boards and 54 state and territory associations of REALTORS® and can join one of our many institutes, societies, and councils. Additionally, NAR offers members the opportunity to be active in our appraisal and international real estate specialty sections. REALTORS® are pledged to a strict Code of Ethics and Standards of Practice.
Working for America's property owners, the NATIONAL ASSOCIATION OF REALTORS® provides a facility for professional development, research, and exchange of information among its members.
Why Do I Need a HOA Resale Certificate & Who Pays for it?
This HUD1 Line item cost may be negotiated, and allows Buyers to order them as well as pay for them.

A HOA Resale Certificate, in short, is a financial overview of the HOA. Although popular belief has it that the HOA is a social club of power control freaks who want to tell you what color to paint your home, it is not, exactly. The HOA has a responsibility and the power to enact architectual control for the purpose of maintaining your community. More importantly, the Home Owner Association, professionally managed or not, has a duty to collect dues in order to maintain the quality of a communities assets (pools, gates, tennis courts, and sometimes streets if a Public Urban Development or PUD, another blog topic). That means when it collects dues it needs to plan for short term maintenance needs as well as long term capital improvements. With soaring HOA fees from $200 to $1,000+, you want to know if the HOA is financially sound, if it has any debt, and if there are any concerns about its ability to get the job done, don't you?


The seller agrees to make the repairs requested by the buyer after the home inspection. Can the buyer insist that the seller use a certain repairman?

No. Under TREC contract forms, the seller is required to complete the repairs prior to closing and to use repairmen who are licensed or otherwise authorized by law to perform the work. The contract forms do not provide for the buyer to designate the repairman.


How Important Are The Pictures Taken Of My Home For The Listing?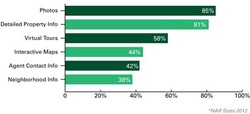 Buyers Ranked Photos #1 As Most Useful Tool In their Buyer Decision.
---
Do counteroffers have to be in writing?

I am the listing broker. My client told me to call the agent for a prospective buyer with his counteroffer of several thousand dollars more than the offer made by the buyer. The buyer's broker insists that the seller must make a formal counteroffer in writing or reject the buyer's offer in writing. Does the seller have to respond in writing?

No. A seller has no legal duty to respond to an offer in any particular way. A verbal counteroffer could expedite the negotiations for the sale of property in many cases. Of course, once there is a meeting of the minds about the terms and conditions of the sale, the parties should promptly reduce the agreement to writing and sign the contract to make it a binding obligation.

A seller could respond to a buyer's offer by using the Seller's Invitation to Buyer to Submit New Offer (TAR 1926). This form would be particularly useful where the seller's proposal contains several changes to the buyer's offer. By using this form, the seller is free to consider other offers without having to be concerned about the withdrawal of a previous, written counteroffer.


Foreclosures and the value of your home
How do Foreclosures in my neighborhood affect the value of my home?

Communities with high concentrations of foreclosures lose tax revenue and incur the financial and non-financial costs of abandoned properties and neighborhood blight, while home owners living in close proximity to foreclosures suffer loss of wealth through depreciated home values.


Home Staging for Sellers.
Why should I bother staging my home? What do I get back for all the time and effort I put in?

This is one of the most common home staging questions among sellers, especially those who are selling in a seller's market.

Here's the bottom line: Staging your home can benefit you regardless of what type of real estate market you are in.

In a buyer's market, you will need every advantage you can get in order to sell your home for a decent sale price, so it's extra important to stage your home effectively. But even in a seller's market staging can help you achieve a quick sale for the maximum sale price.

So no matter what kind of real estate market you are in, it's always wise to stage your home for the market.


Are you sharing too much information?

Thirty seconds of Internet research can reveal a lot about a person.

If that person happens to be a buyer or seller in a real estate transaction, such a search could also reveal motivations and other personal details that you won't find in any contract or addendum—details that could hurt your negotiating position.

Buyers could post photos of a listing on Facebook along with comments about how desperate they are to have their offer accepted. Sellers might tweet about how they can't wait to move away from a certain neighbor.

If the other parties in a transaction or their agent sees these posts, your clients' negotiating position could be weakened, costing them money or even killing a deal. Keep real estate transaction details off social media channels. It doesn't take much effort to Google someone's name.

Landlords and smoke alarms

May a landlord's duty to install smoke alarms be waived?

No. State law that became effective Sept. 1, 2011, requires a landlord to install smoke alarms in each bedroom, in each hallway that services multiple bedrooms, and on each level of the dwelling unit.

A landlord of a property with a lease signed before Sept. 1, 2011, has until Jan. 1, 2013, to comply with these new requirements. Per the Property Code, the duty to install smoke alarms may not be waived. If a landlord is not in compliance with the law on smoke alarms, a tenant may seek remedies, such as a judgment for damages related to the violation and court costs.
Does a husband have rights in the property his wife bought before they got married?

Texas is a community-property state. Many times, one spouse will own the home before marriage as his or her separate property. After marriage, if the parties live in the home together, then notwithstanding the separate property character of the home, the non-owner spouse acquires certain homestead rights.

When taking a listing agreement on a home in that situation, you should always require both spouses to sign the listing agreement and the contract. The title company will require both spouses to execute the deed in order to extinguish the homestead rights of the non-owner spouse.

The non-owner spouse's homestead rights are possessory in nature. Without the signature and cooperation of the non-owner spouse, the owner spouse can only transfer good title to a buyer but cannot deliver possession. Therefore, it is essential to have both spouses sign the listing agreement, the contract, the deed, and other closing documents.

Lender Not Ready For Closing.
What can I do if the closing date is coming and the lender isn't ready?
Since the contract does not include an automatic extension to allow the lender time to complete his role, the seller has two choices. He can amend the contract to extend the closing date, or he can consider the buyer in default.
If he decides that the buyer is in default, under the provisions of Paragraph 15, the seller can terminate the contract and receive the earnest money as liquidated damages or seek judicial relief. However, since time is not of the essence to the closing date, the buyer might argue that a short delay in closing is not a material breach of contract, especially when the delay is not the buyer's fault. This issue might end up in court.
To prevent this situation in the future, suggest that contracts specify a closing date in the middle of the month. The real estate closing process backs up at the end of the month. Any savings, real or perceived, gained by closing at the end of the month are more than offset by the reduced stress of closing between the 10th and 20th of the month.